Ms. Rashmi Pandey,
Principal (Primary)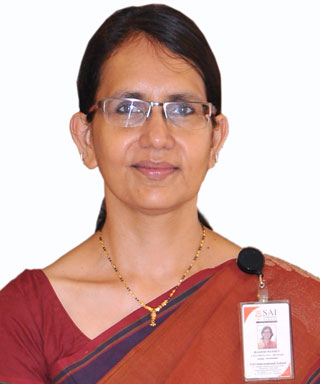 Ms. Rashmi Pandey
Principal (Primary)
SAI Angan is ably nurtured in the caring hands of Ms. Rashmi Pandey since its inception in the year 2015. Ms. Pandey with more than sixteen years of teaching experience manages various roles like teaching, content and curriculum development, process improvement, training, mentoring, relationship management etc and is actively involved in the practices and processes of the school. She holds a Master's degree in Arts and a degree in Bachelor of Education as well as completed a short-term course at Harvard School of Education, USA on Making Learning Visible. She also received the Global Teacher's Accreditation Award by the British Council.
Her excellent communication skills and teaching experience as a creative teacher in English contributes beautifully to the talent pool of the SAI family. She strongly believes that a happy childhood is a strong precursor for a good future. Armed with exceptional people skills, she relates well not only with the children but the teachers as well as parents. Her easy-going nature and sensitive demeanour makes it very easy for parents to correspond with her as they come up with their anxieties and apprehensions.
Ms. Pandey is an affable personality with a friendly disposition, who works resiliently towards producing a favourable learning and creative environment for the children. She chalks out the teaching-learning practices and formats lesson plans and activities that are simple, understandable and designed for easy understanding by the preschool children. Her forte is constructing dynamic curriculum that is activity based and at the same time educational for children of all age groups.