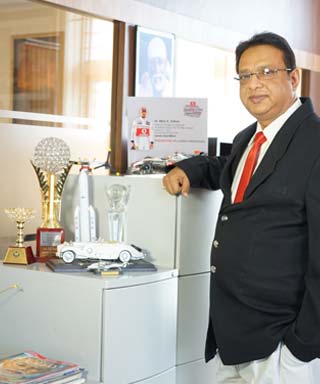 Awards and Recognitions
SAI Angan Adjudged as the No.1 PreSchool in Bhubaneshwar by EducationWorld India PreSchool Rankings 2022
Scaling new heights year after year, SAI Angan is adjudged as the No.#1 Preschool of Bhubaneswar, for the 5th consecutive year as per EducationWorld India Preschool Rankings (EWIPR) 2022-23.  The Award was received by Ms. Rashmi Pandey, Principal, SAI Angan at Grand Jury India PreSchool Rankings 2022-23 Awards and Early Childhood Education National Conference 2022, held at New Delhi on Tuesday, December 20, 2022.
The School was  ranked on a ten-point scale across ten parameters like competence of faculty, infrastructure, individual attention to students, value for money, leadership/management quality, parental involvement, innovative teaching, safety and hygiene and facilities provided for special needs children.
SAI Angan, India's largest playschool is based on the philosophy of providing positive early learning experiences, through a specially crafted multi-sensory approach. Each child between 2 to 7 years of age is provided individual attention in a secure, balanced and nurturing environment, which ensures a strong foundation for wholesome learning
SAI Angan becomes No.1 Future Ready Preschool of India
SAI Angan created history by becoming the Future Ready Preschools India No.1 as per EducationWorld India Preschool Grand Jury Rankings 2019-20. The school was acclaimed for its extraordinary efforts to introduce innovative 21st-century practices in early childhood education.
The Grand Jury Award was presented to Dr. Silpi Sahoo, Vice Chairperson, SAI International Education Group at the Early Childhood Education National Conference 2020, held at Hotel Sahara Star, Mumbai on Thursday, January 23, 2020.
The annual EducationWorld Grand Jury Awards acknowledge and felicitate schools which excel under distinct parameters including environment friendliness, technology usage, extraordinary leadership, multi-sports culture etc. A jury of well-informed educationists and educators assessed over 750 preschools in 11 different categories of 21st century education excellence to rank the preschools.
Established in the year 2015, SAI Angan is a trendsetter in Early Childhood Education that provides a 360-degree learning experience onto each child inspiring them to be learners with permanence and quality.
Times of India confers Best Play School of Odisha Award to SAI Angan
SAI Angan is adjudged as the Best Play School of Odisha by Times of India Group. The award was presented to Founder and Mentor SAI International, Dr. Bijaya Kumar Sahoo by eminent Bollywood actor Shri Anil Kapoor on Saturday, February 29, 2020 at a grand ceremony held at Bhubaneswar.
The award was judged on the basis of factual and perceptual rating survey by independent research agency 'Market Xcel Data Matrix Pvt. Ltd.', followed by interviews with various segments of respondents. The average scores from the factual survey and perceptual rating survey helped to arrive at the final ranking of this prestigious award.
Dr Bijaya Kumar Sahoo expressed his gratitude and said that, 'such prestigious recognition reaffirms our faith, elevates our innovation endeavors and leads our aspiration to build a Better Odisha through Education'.
SAI Angan receives the ISA Award
SAI Angan was conferred with the International School Award (ISA) 2018-21 by the British Council on Wednesday, December 5, 2018. The award was received by Smt. Rashmi Pandey, Vice Principal, SAI Angan at the Annual British Council International School Award Ceremony held at New Delhi.
The ISA is a yearlong accreditation process where the Play School needed to complete seven international projects linked with schools in different countries. SAI Angan was bestowed with the coveted award for effectively embedding Internationalism into its curriculum. The award adds three years of International accreditation to its growing list of laurels.
SAI International School, Ranked 1st in the Country as per EWISR 2020
SAI International School is greatly honoured to be adjudged as the No 1 School in India in the co-ed, day-cum-boarding school category as per EducationWorld India School Rankings (EWISR) 2020, reflecting its consistent rise in the national ranking. This award has taken SAI International School, the only School from Eastern India into the National Top League in the last 75 years. This noteworthy achievement has not only brought glory to Odisha but has also strengthened the state's position in the K-12 educational system.
SAI Angan receives ECA Hall of Fame Award 2019
SAI Angan is proud to receive the Hall of Fame Award 2019 from the Early Childhood Association (ECA) for its exemplary role in Early Childhood Education. The award places the School among the Top 50 Non-Franchised Preschools in Asia. The citation was given away in a glittering award presentation ceremony at The City Palace, Jaipur on Tuesday, February 12, 2019.
The Hall of Fame Awards is an endeavour of ECA to celebrate achievements of early childhood educators from across Asia. It brings together all stakeholders like teachers, media, parents, experts etc to strengthen the networking and enrich Early Childhood Education through awareness and advocacy.
This Award adds one more laurel to the achievements of SAI Angan and inspires us to soar greater heights of success.
SAI Conferred with the Elite Award 2018
SAI International School is bestowed with the prestigious ELITE (Emerging Leaders in Innovation, Technology & Education) Award, the Next Generation of School Rankings based on a globally-bench-marked assessment conducted by Edfinity, USA and designed by the alumni of Stanford, Harvard and Yale University, USA.
ELITE School Ranking is a pioneering ranking of Indian private schools that puts innovation, academic proficiency and teacher quality, based on both self-reported information and independent assessment of teacher expertise and student academic proficiency at its heart.
QCI bestows SAI International School with the QCI-D.L.Shah Award
The Quality Council of India (QCI) instituted the QCI-D.L.Shah Award to promote quality excellence for the wellbeing of the citizens of the country. The Award is given annually to recognize successful organization in all spheres of activity and promote awareness on adopting excellent standard.
SAI International School is the only School in the Country to bag the coveted QCI-D.L.Shah Award for the 2nd time in a row for achieving excellence through quality initiatives. The Award was presented to Dr.Bijaya Kumar Sahoo, Chairman, SAI International School at the 12th Quality Conclave, held at Pune on Tuesday, February 12, 2019.
SAI Angan becomes a Kindness Certified School
In recognition of the School's commitment to create a culture of kindness in the campus, SAI Angan is acknowledged as a 'Kindness Certified School' by Kids for Peace (KFP). SAIoneers with their acts of kindness joins students from various schools across the globe doing the same act.
As part of this programme, students were given a checklist of 50 acts of kindness to be completed in one week. Students sincerely carried out the acts, which helped them realize their inner joy in making others happy. These small acts help in inculcating emphatic values and empower children to create a culture of kindness.
At the heart of The Great Kindness Challenge is the simple belief that kindness is strength. It is believed that if an action is repeated, a habit is formed. With the Great Kindness Challenge checklist in hand, students had the opportunity to repeat the kind acts. As kindness becomes a habit, peace becomes possible. The Great Kindness Challenge is a grassroots movement that helps in making participating schools, communities, and world a kinder and more compassionate place for all.
Fortune India enlists SAI in the Future 50 Schools Shaping Success
SAI International School is honoured to make it to the Future 50 Schools of India, which is a highly coveted award instituted by Fortune India, the Indian edition of Fortune International, owned by Time Inc, New York in association with University.
Future 50 Schools Shaping Success was instituted for the first time in India to recognize Schools doing exemplary work in shaping the future of the students. The selection to enlist the Schools was done through a rigorous process by PricewaterhouseCoopers (PwC) in association with Fortune India. The Jury consisted of Academicians, Consultants and Process Auditors of International acclaim. In the first of its kind, only 50 Schools qualified under International norms and standard.
It recognizes Schools that nurture young learners and build the workforce of the future and provide schools a platform to learn and share best practices across various fields. The parameters for evaluation included both, criterion based on efforts made by schools in shaping student careers and criterion based on results achieved by students owing to the support from school.