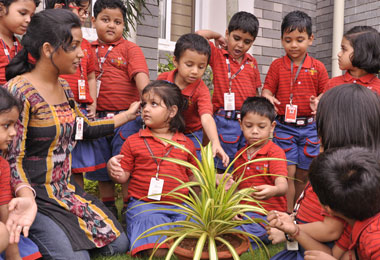 At SAI Angan, we work towards children being active participants through learning. While the activities in the classroom provide wonderful opportunities, which, in conjunction with extended learning, beyond the classroom fosters confidence and self esteem in the tiny tots. Proper and ideal outdoor exposure of students helps amalgamate infinite knowledge in them.
Concrete research reveals that environmental stimulation during the early years is crucial for the normal development of a child's brain, thus it becomes imperative to introduce children of 5 years of age and below, to a stimulating environment that fortifies them to act and think productively. The field trips to various places of interest along with the numerous day -to- day activities guarantee ideal development.
The vast play area spanning 50,000 sq ft encourages extensive and differential learning by allowing individual learners to develop the much desired spirit of enquiry and inquisitiveness. The beyond the classroom concept at SAI Angan focuses on harnessing the fine and gross motor skills in the children, in tandem with holistic development, helping the little ones take the leap forward to a bright future.