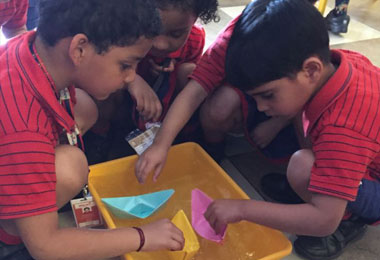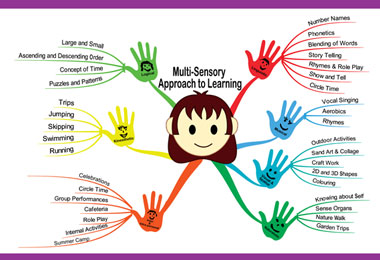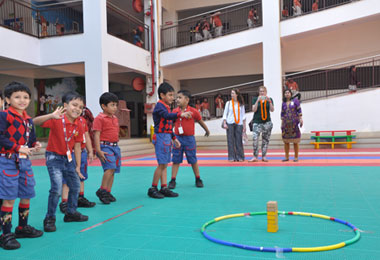 In SAI Angan we believe that a student's learning should be designed around their individual performance and ability. Our enhanced curriculum has been shaped around the belief that young children learn in an integrated way and not in neat, tidy compartments. Our curriculum is learner centered , inclusive and developmentally appropriate. It features a multidisciplinary approach, which engages all the senses and reinforces the strengths of every child. Students engage with the material in more than one way. For example , when a child learns about lemons, the child gets a chance to visually examine, touch, smell and taste lemons-instead of just reading and listening to the teacher. In this way the child experiences the taste of lemon , see its colour and shape. The child can also hold the lemon, feel its texture and even count the number of seeds inside the halved portion.
Similarly our students learn the language through exposure to different sounds and that is why we give due stress on phonetics. They learn through song , games and verbal communications. We start with sounds, build their vocabulary and gradually work towards the grammatically correct components of the language.
We maintain a link between courses and child psychology as it facilitates the mind of children by fulfilling their psychological and mental requirements. Children learn best when they are given appropriate responsibility, allowed to make errors, decisions and choices, and respected as independent learners. The fundamental aim of our school is to develop students as fully-rounded individuals.