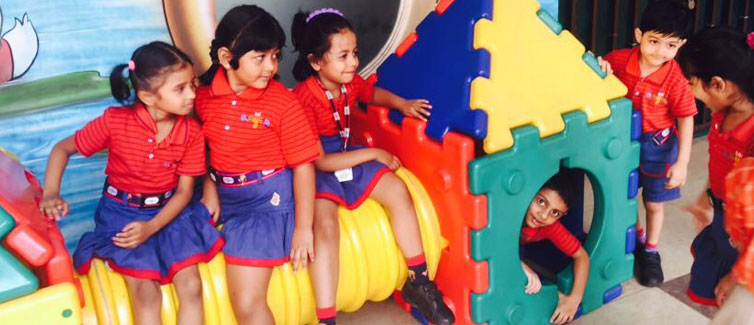 While it may only seem like yesterday that you were cuddling your newborn baby for the first time, it won't be long before they're off to their first day of preschool.
The start of preschool marks a significant milestone in your child's education and development, but there is no denying that it comes with many conflicting emotions like excitement, apprehension, and even sadness as babyhood disappears.
Hence, preparing your child for preschool will require a more conscious effort on your part.
Here are some simple tips which you as a parent can implement at home to help ease the transition in the weeks before the first day of school, on the first day and soothe the jitters of separation.
Follow a bedtime and wake-up routine – An established consistent routine fosters a sense of sequencing, time, and discipline. They ease transitions and mentally prepare the child for the day.
A morning ritual can include helping your child make her bed, get dressed, eat breakfast, brush her teeth and hair, and gather personal items. You can take the help of a Good Morning chart that illustrates the tasks to be performed to mark the completed chores with colourful stickers. Some of the best preschools in India organize their children with similar daily schedules.
A comforting night-time routine might include: bathing, changing into pyjamas, reading a book, brushing teeth, praying, discussing the day's happenings, singing songs, giving hugs and kisses, and tucking in. These tasks help calm restless children, get them ready for sleep, and encourage additional bonding.
You May Like: How A Preschool Plays an Important Role for Your Kid's Life in India
Read pre-kindergarten books together: It is crucial to begin reading to your child in the early years to instil a love for books, strengthen their phonic skills, provide them with imaginative experiences that help them become creative thinkers and innovators, improve their vocabulary and reduce the anxiety of transition.
A simple search in the bookstores or library will yield an abundance of resources that you can read together. Here is a list of some worthwhile reads recommended by the teachers of the best preschools in India:
Maisy Goes to Preschool by Lucy Cousins
The Kissing Hand by Audrey Penn
Brown Bear Starts School by Sue Tarsky and Marina Aizen
The Pigeon Has to Go to School! by Mo Willems
The Night Before Preschool by Natasha Wing
Use pretend play to explore preschool – Encourage your child's penchant for pretend play by creating a simple classroom at home.
You May Like: SAI Angan Rated As The No.1 Future Ready Preschools of Bhubaneswar, Odisha
Puppets can be used in roleplaying to act out common daily routines, such as saying goodbye to parents, hanging up backpacks, participating in circle time, etc.
You might have a "race" with your child to see how quickly she can put on her shoes and fasten them.
Make sure your child learns a few basic social skills, such as how to take turns, grabbing someone's attention, or participating in a game.
Watch out for Separation Anxiety: Teary goodbyes between parents and toddlers are not uncommon, even if you enrol your child in one of the best preschools in India. Listed below are some strategies to cope up with the emotional moment:
On the first day of preschool, spend 15 to 20 minutes with your child. Bring your child's attention to the classroom activities and help him engage with classmates or toys. Do not linger too long once your child gets comfortable; instead, say a quick, cheerful goodbye that sounds reassuring, like, "I know you are going to have a good time today. I'll be back shortly to pick you up."
While dropping off your child, you could give them a kiss on the palm to "hold and keep" all day. A special hug or a high-five while bidding them farewell is another way to keep their spirits up.
Final Words
It goes without saying that sending your child to the best preschool in India will immensely contribute to their development. With a bit of planning, both you and your child can feel confident about the transition.
Therefore, do not allow the empty nest syndrome to stop you from celebrating this interesting new phase in your child's life.