Dr. Bijoy K. Sahoo,
Chairman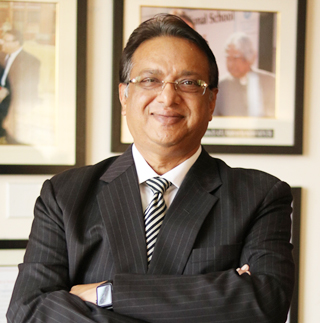 Dr. Bijoy K. Sahoo
Chairman
Leadership Shaped by a Vision, and Strengthened by Conviction.
"Revolutionizing the educational scenario of Odisha, with innovative approaches to nurture children through value-based and internationally bench marked education, Dr. Sahoo created a model for many schools to adopt. His motto, 'Be the best or different from the rest, choice is yours', reverberates in the heart and mind of every student."
A pioneer, a visionary, a thinker, and a man of action, Dr. Bijoy K. Sahoo is a man with a passion for excellence in education. An edupreneur whose working philosophy is deeply rooted in core values of honesty, hard work and transparency, resting on the pillars of people and processes. This philosophy is clearly seen at the educational institutions that bear the SAI name.
Dr. Sahoo's journey as an entrepreneur, who combined Indian values and cutting edge technology successfully, is a fascinating one. He founded the JSS Group in 1990, the first BPO in Odisha. It became a full-fledged BPO and IT hub with a workforce of 1200 within a short time. JSS also established the state's first voice and non-voice ITes training centre, and the excellence in service it provided has been recognised by clients such as Citibank, Oracle, Citi Financial, and HDFC. It also bagged the Best BPO Award from the state government in 2008.
In 2007, Dr. Sahoo established the first Government of India approved private Software Technology Park in Odisha, an enterprise that won the Best STPI Award from the Government of India in 2013 and 2014.
Not one to rest on his laurels and after practicing as a Chartered Accountant for 25 years, Dr. Sahoo decided to follow his true passion, education with purpose. He wanted to create a space that nurtured children into becoming responsible and principled human beings. Meticulous planning, hard work, and many, many sleepless nights later, the SAI Group took shape. SAI International School, SAI Aangan, SAI International College of Commerce, and SAI International Residential School are testimony to his vision to bring education of international standards to Odisha.
Dr.Sahoo's philosophy, 'Be the best, or different from the rest' defines his roadmap for the year 2030. His long term perspective includes imparting quality education in pre-schools, where Howard Gardner's principle of multiple intelligences will be practiced. His plans also include setting up a world-class Teacher Training Institute, and assimilating the best practices from across the world through active collaboration. A greater vision remains the setting up of SAI International University for Education, Management, Business, and Liberal Arts.