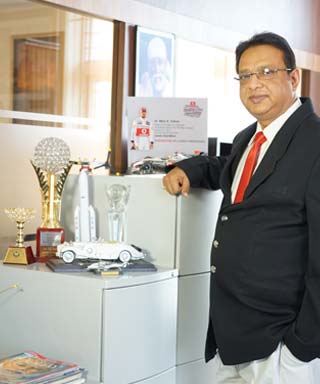 Awards and Recognitions
SAI Angan once again adjudged the No.1 preschool
SAI Angan, a division of SAI International School is ranked as the No.1 preschool in Bhubaneswar for the 3rd consecutive year, by the EducationWorld India Preschool Rankings 2018-19. The award was received by Vice Principal Ms. Rashmi Pandey at the 9th Early Childhood Education National Conference 2019, at Bangalore on Saturday, January 19, 2019.
Delhi based Market Research Agency, Centre for Forecasting & Research Pvt. Ltd (C fore) undertook the assessment to rate and rank the high performing preschools from across the country. A national sample of 8,245 respondents comprising parents with preschool children, principals and teachers were interviewed by over 100 field staff of C fore in 16 cities. Preschools in each City was ranked on a ten-point scale across ten parameters like Competence of teachers, Teacher welfare, Individual attention to students, Value for money, Leadership/management quality, Parental involvement, Innovative teaching, Safety and hygiene and Special needs education.
SAI Angan, India's largest playschool is based on the philosophy of providing positive early learning experiences, through a specially crafted multi-sensory approach. The classrooms are fragmented into different areas, each assigned to a specific skill, to increase the effectiveness of multi-sensory approach of learning. The technology aided comprehensive well-researched curriculum provides children an excellent opportunity to hone their intellectual, educational and emotional skills. Each child is provided individual attention, which ensures a strong foundation for wholesome learning between 2 to 7 years of age. In a highly secure, balanced and nurturing environment, students are prepared for formal schooling.
SAI Angan receives the ISA Award
SAI Angan was conferred with the International School Award (ISA) 2018-21 by the British Council on Wednesday, December 5, 2018. The award was received by Smt. Rashmi Pandey, Vice Principal, SAI Angan at the Annual British Council International School Award Ceremony held at New Delhi.
The ISA is a yearlong accreditation process where the Play School needed to complete seven international projects linked with schools in different countries. SAI Angan was bestowed with the coveted award for effectively embedding Internationalism into its curriculum. The award adds three years of International accreditation to its growing list of laurels.
SAI International School, Ranked 3rd in the Country as per EWISR 2018
SAI International School is greatly honoured to be adjudged as the 3rd Best School in India and No.1 in the state in the co-ed, day-cum-boarding school category as per EducationWorld India School Rankings (EWISR) 2018, reflecting its consistent rise in the national ranking. This award has taken SAI International School, the only School from Eastern India into the National Top 5 League in the last 75 years. This noteworthy achievement has not only brought glory to Odisha but has also strengthened the state's position in the K-12 educational system.
SAI Conferred with the Elite Award 2018
SAI International School is bestowed with the prestigious ELITE (Emerging Leaders in Innovation, Technology & Education) Award, the Next Generation of School Rankings based on a globally-bench-marked assessment conducted by Edfinity, USA and designed by the alumni of Stanford, Harvard and Yale University, USA.
ELITE School Ranking is a pioneering ranking of Indian private schools that puts innovation, academic proficiency and teacher quality, based on both self-reported information and independent assessment of teacher expertise and student academic proficiency at its heart.
QCI bestows SAI International School with the QCI-D.L.Shah Award
The Quality Council of India (QCI) instituted the QCI-D.L.Shah Award to promote quality excellence for the wellbeing of the citizens of the country. The Award is given annually to recognize successful organization in all spheres of activity and promote awareness on adopting excellent standard.
SAI International School is the only School in the Country to bag the coveted QCI-D.L.Shah Award for the 2nd time in a row for achieving excellence through quality initiatives. The Award was presented to Dr.Bijaya Kumar Sahoo, Chairman, SAI International School at the 12th Quality Conclave, held at Pune on Tuesday, February 12, 2019.
SAI becomes a 'Kindness Certified School' once again
SAI International School is once again acknowledged as a 'Kindness Certified School' by Kids for Peace (KFP).  SAIoneers with their acts of kindness joins students from various schools across the globe. This is the fifth year for SAI to receive the coveted award in a row.
In this challenge, students were given a checklist of 50 acts of kindness to be completed in one week. Students sincerely carried out the acts, which helped them realize their inner joy in making others happy. These small acts help in inculcating emphatic values and empower children to create a culture of kindness.
SAI became the first Kids for Peace (KFP) Chapter in India in 2015 and conducts regular peace activities every month. The School links up with other Kids for Peace Chapters abroad and join forces in promoting peace on a global scale. SAI has KFP Chapter links with Gombe Group of Institutions located in Kampala Uganda, Churchdown Village Infants School, Gloucester and Notre Dame Academy Elementary School, Los Angeles, California.
SAI International School wins the World Education Award
SAI International School (SIS) and SAI International Residential School (SIRS) won the prestigious World Education Award 2018 for its Educational Excellence. While SIS was awarded for its Innovation in Global Collaborative Learning , SIRS was bestowed with the award for being an Emerging School. The awards were received by Dr. Bijaya Kumar Sahoo, Chairman, SAI international Group at the 12th World Education Summit held at New Delhi on Friday, August 10, 2018.
The World Education Summit is the premier international platform dedicated to innovation and creative action in education sector. It aims to recognise, highlight, honour and encourage leading models, projects, processes of excellence and sustainable innovation in school and higher education.
The Summit was attended by Government Policy Makers, Leading Educationist from K-12, Higher Education Institutes as well as Foreign Universities. Dr. Sahoo was one of the panel member of the Summit who discussed on "Setting up Indian Schools in International Markets and Vice Versa- Sharing Best Practices in Global Education and Investment Opportunities".
Fortune India enlists SAI in the Future 50 Schools Shaping Success
SAI International School is honoured to make it to the Future 50 Schools of India, which is a highly coveted award instituted by Fortune India, the Indian edition of Fortune International, owned by Time Inc, New York in association with University.
Future 50 Schools Shaping Success was instituted for the first time in India to recognize Schools doing exemplary work in shaping the future of the students. The selection to enlist the Schools was done through a rigorous process by PricewaterhouseCoopers (PwC) in association with Fortune India. The Jury consisted of Academicians, Consultants and Process Auditors of International acclaim. In the first of its kind, only 50 Schools qualified under International norms and standard.
It recognizes Schools that nurture young learners and build the workforce of the future and provide schools a platform to learn and share best practices across various fields. The parameters for evaluation included both, criterion based on efforts made by schools in shaping student careers and criterion based on results achieved by students owing to the support from school.