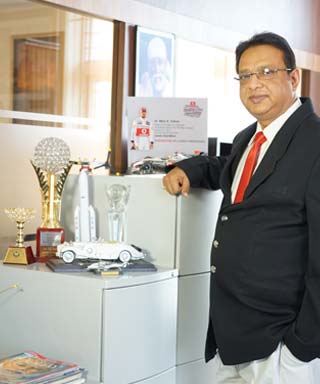 Awards and Recognitions
SAI Angan once again adjudged the No.1 preschool
SAI Angan is once again ranked No.1 preschool in Bhubaneswar by the EducationWorld India Preschool Rankings (EWIPR) 2017-18. The award was received by Shri Harish Sanduja, Principal, SAI International School and Vice Principal Ms. Rashmi Pandey at the 8th Early Childhood Education National Conference 2018, Bangalore on Saturday, January 20, 2018.
Established in the year 2015, SAI Angan is a trendsetter in Early Childhood Education that provides a 360 degree learning experience onto each child inspiring them to be learners with permanence and quality.
D L Shah Quality Gold Award 2017
The Quality Council of India conferred the prestigious D.L.Shah Quality Gold Award 2017 on SAI at the Annual Flagship event of the National Quality Conclave. SAI is the only School in the country to bag this coveted award, standing in line with mega giants like TCS, Nalanda University, AIIMS, Fortis, BHEL, Hero Motors, PHFI, Godrej, Lupin, TATA Motors to name a few. The award recognizes successful process initiatives on quality excellence, across various sectors, to promote awareness that performance improvement through quality initiatives is an important element for gaining a competitive edge.
SAI International School, Ranked 4th in the Country as per EWISR 2017
It is a matter of great pride and honour for SAI International School to be adjudged as the 4th Best School in the Country and 1st in Odisha as per Education World India School Rankings 2017. This enviable achievement has placed Odisha in the forefront of K-12 education. It reinforces the victory of innovation in education by bagging the D.L.Shah Quality Gold Award 2017, from Quality Council of India.
Fortune India enlists SAI in the Future 50 Schools Shaping Success
SAI International School is honoured to make it to the Future 50 Schools of India, which is a highly coveted award instituted by Fortune India, the Indian edition of Fortune International, owned by Time Inc, New York in association with University.
Future 50 Schools Shaping Success was instituted for the first time in India to recognize Schools doing exemplary work in shaping the future of the students. The selection to enlist the Schools was done through a rigorous process by PricewaterhouseCoopers (PwC) in association with Fortune India. The Jury consisted of Academicians, Consultants and Process Auditors of International acclaim. In the first of its kind, only 50 Schools qualified under International norms and standard.
It recognizes Schools that nurture young learners and build the workforce of the future and provide schools a platform to learn and share best practices across various fields. The parameters for evaluation included both, criterion based on efforts made by schools in shaping student careers and criterion based on results achieved by students owing to the support from school.